ARCHIVE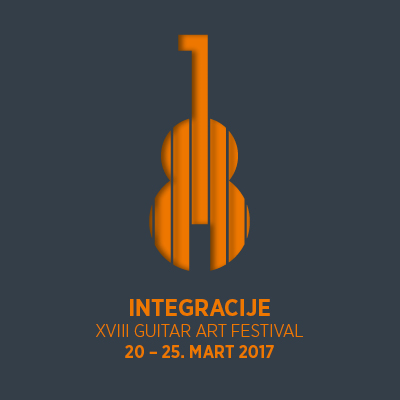 Srđan Bulat
Croatia
concert


Wednesday, March 22nd | 19:00
Belgrade Youth Center

master classes
jury
Concert program:
Stjepan Šulek - Tri trubadurske – I. Sjeta, II. Sonet, III. Svečanost
Giulio Regondi - Etida br. 8 u G-duru
Kristina Arakelyan - Fantasia
Isaac Albeniz - Mallorca
Zoran Juranić - Sonata - I. Preludio, II. Scherzo, III. Ciaccona
Srđan Bulat's concert represents an authentic concept that merges traditional and contemporary views on guitar music. This kind of concert repertoire selection is a feature of an artist on the rise. Srđan Bulat bears the title student of the generation and winner of many prestigious competitions for classic guitar. He graduated with honors from Royal Academy of Music in London and he is the first guitarist from the Balkans that has completed post-graduate studies in this institution, which is one of the most prestigious academies in the world.
The concert in Belgrade will begin with the composition Tri trubadurske written by neo-classic composer Stjepan Šulek. This composition represents sort of an introduction into the whole concept of this performance because the piece itself contains a merger of old and new. With three sections of this piece – Seta(Melancholy), Sonet and Ceremony, the composer honors a great and very influential culture of medieval troubadours linking them with the style of famous composers - a part of fugue from Bach's first violin Sonata.
The audience will have the opportunity to hear the Etude in G major written by the great romantic virtuoso Giulio Regondi whose art shaped modern guitar repertoire. Next on the repertoire is a composition specially written for Srđan Bulat by Kristina Arakelyan. Fantasia represents another remarkable piece written by this talented composer whose work has been present on stages around the world for several years now.
Bulat will represent himself with the piece Mallorca by the great Spanish pianist and composer Isaac Albeniz and the concert will close with a monumental composition Sonata by academician Zoran Juranić, one of the most prominent composer that were under the mentorship of Stjepan Šulek. The concert will begin with one of his pieces.
With a finale like this, Srđan Bulat is closing the circle where he masterfully showed an authentic combination of traditional and modern program for classic guitar within one performance.
Srđan Bulat (1986) is an award-winning concert classical guitarist from Split, Croatia. He is one of the most successful classical guitarists of the new generation and the top prize winner at almost all of the most important international classical guitar competitions. He has won top prizes in Benicassim "Francisco Tarrega", Almeria "Julian Arcas", Alessandria "Michele Pittaluga", Valencia "Alhambra", Madrid "Gredos San Diego", London "London International Guitar Competition", Rome "Fernando Sor", just to name a few; and has also won numerous special awards for the best interpretation of Spanish music, which is featured prominently in all of his recital programs.
He has a Master of Arts degree from the Royal Academy of Music in London, which he has successfully completed, with high distinction, in July 2014. He was also awarded the prestigious ABRSM scholarship as the only international student of his generation to be given this honor. In September, 2015 he completed his second postgraduate degree at the Music Academy in Zagreb, Croatia, where he specialized in classical guitar music written by contemporary Croatian composers. He has given many solo recitals around the world (London, Paris, Rome, Madrid, Oslo, Copenhagen, Helsinki, New York, Chicago, Toronto), and has recorded two full length solo albums – his first for RTVE (Spanish National Radio-television), and his second for the prestigious recording company Naxos, which was released in September 2012.
Video
Srdjan Bulat - Capricho arabe (Francisco Tárrega)
GUESTS