ARCHIVE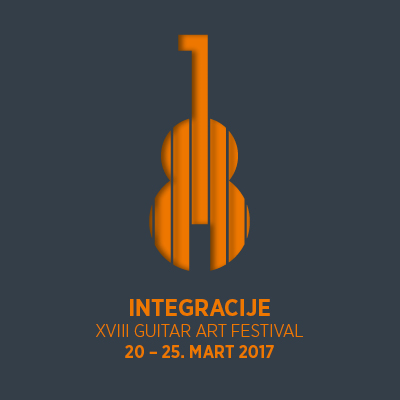 Nemanja Ostojić
Serbia / USA
concert


Tuesday, March 21st | 19:00
Belgrade Youth Center

master classes
jury
CONCERT PROGRAM:
Georg Philip Telemann - From Twelve Fantasies for Solo Violin, (arr. Carlo Marchione) - Fantasy No. 1, Largo, Allegro, Grave, Allegro
Antonio Jose - Allegro moderato, Minueto, Pavana triste, Final
Aaron Travers - *Espèces Perdues (Lost Species) (2016) - I. Lament for the Seas, II. Against the Earth. *Delo napisano za Nemanju Ostojića.
Augustin Barrios Mangore - Un Sueño en la Floresta
Isaac Albeniz - Sevilla
NEMANJA OSTOJIĆ - "...from the first note, one knows the music is coming from an artist at the top of his game."
Nemanja Ostojić was rewarded with a title "Guitar champion" according the Italian magazine Seicodre. He has performed with orchestras such as Bilkent symphony Orchestra (Ankara, Turkey), Buffalo Philharmonic (NY), Symphonie Orchestra Allentown, Saint George Strings (Serbia) and collaborated with conductors such as Maestro Leo Brouwer, Dianne Wittry, Bujor Hoinic and Joann Falletta.
Nemanja Ostojić is well-known among the Belgrade audience as a young virtuoso and a great talent. He performed at Guitar Art Festival in 2004 when he replaced John Williams at a concert in Sava Center while being conducted by the great maestro Leo Brouwer. After 13 years of hard work and specialization abroad, Ostojić will again represent himself in his home town with a solo concert.
Ostojić will represent his skills through carefully selected pieces, starting from baroque era to the most modern musical creations. This selected program has marked his entire career.
The concert will begin with Telemann's Fantasia no.1 violin solo. Nemanja has worked on a cover of this piece during his master studies together with the professor Nigel North and that made an unforgettable impression on his ideas of experiencing and interpretation of music from the baroque era on a guitar. The artist cites that he is playing the Sonata by Antonio Jose for 10 years so far and that it represents the diversity of his artistic expression, from the subtle and pathetic Pavana Trieste to the fiery Finale. Afterward, he will perform the European premiere of the piece Lost Species by composer Aaron Travers. This piece addresses the issues and consequences of the existence of mankind on Earth, in terms of direct disaster and extinction of many animal species. This subject is very close to the artist and the composer. The concert will close with 2 compositions that are using an alternative guitar tuning and they are both of Spanish and Hispanic character.
As a winner of 16 international competitions, Nemanja Ostojic has already appeared as soloist in 19 countries. He has performed with orchestras like Ankara's Bilkent Symphony Orchestra, Buffalo Philharmonic, Allentown Symphony, St. George Strings, and closely worked with conductors like Leo Brouwer, Joanne Falletta, Dianne Wittry, Bujor Hoinic, etc. His discography includes the debut album "First Born" which has received the rave reviews from the Guitar Foundation of America, as well as the "Seichorde", the leading Italian magazine for classical guitar. In 2007, the Italian label "La Guitarra" published DVD of Nemanja's live concert in Milan's Palazzina Liberty. Nemanja was selected to substitute for the Grammy Award-winning guitarist John Williams, performing Rodrigo's Concierto de Aranjuez with the legendary Unesco's Ambassador Leo Brouwer and the Greek Athens Camerata orchestra at the V GuitarArt Festival in Belrade
His top prize competition wins include: Nicolo Paganini Competition in Parma, Italy; Anna Amalia in Weimar, Germany; South West International Guitar Competition, San Antonio, TX; Texas Guitar Competition, Dallas, TX; Schadt String Competition, Allentown, PA; Wilson Center Guitar Competition, WI; Tokyo Guitar Competition; Joanna Falletta Guitar Concerto Competition, Buffalo, NY, etc
Nemanja Ostojiš is a graduate of University of Belgrade, Serbia, where he worked with prof. Srđan Tošić, as well as Indiana University Jacobs School of Music, where he studied with Ernesto Bitetti and lutenist Nigel North. Nemanja currently serves as faculty at University of Indianapolis Department of Music, as well as at Franklin College, in Indiana.
Video
Jazz Sonatina Dušan Bogdanović - Nemanja Ostojić
GUESTS