ARCHIVE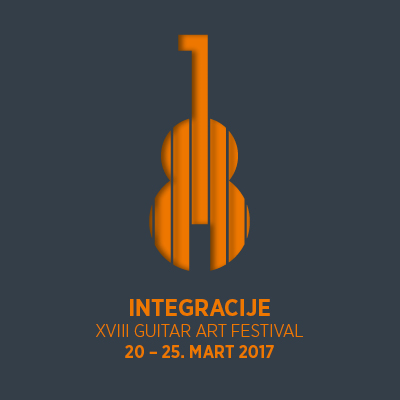 Sanel Redžić
Bosnia & Herzegovina
concert


Tuesday, March 21st | 18:00
Belgrade Youth Center

master classes
jury
Concert program:
L. Brouwer - Canticum
D. Aguado - Andante and Rondo op 2, no 2
V. Ivanovic - Lament and Dance*
M. Castelnuovo-Tedesco - Two Caprichos de Goya, XX Obsequio a el Maestro, XVIII El sueno de la razon produce monstruos
J. S. Bach - Chaconne BWV 1004, (arr. Sanel Redzic)
* World premiere of the piece dedicated to Sanel Redzic.
SANEL REDŽIĆ - "An outstanding representative of young guitar generation who surprises with his unusual musical maturity".
Sanel Redžić is one of the most perspective and most skillful guitarist of the younger generation. As a young virtuoso, he is allocated by a special sensibility, emotion and perfectionism when it comes to playing. The critics are saying: "The moment he touches the strings, his soul enters into the music. From that moment on, he is completely devoted to music…"
Sanel has made a name for himself in the international stage thanks to a wide repertoire. Until this day, he has thrilled the audience and media with more than 1000 shows and solo concerts worldwide. In international competitions, he has won many important awards and acknowledgements for his work.
Belgrade audience will get the chance to meet this young virtuoso through the works from baroque era and classical music of 20th and 21st century. It is an interesting fact that Sanel has been living in German city of Weimar for the last 9 years, exactly same amount of time that Bach has spent living there too. Critics point out that the Sanel peaked in the interpretation of this composer, so that his work has become an integral part of the concert by this young artist.
In that way, the concert in Belgrade will be closed with the works of this great master of baroque. Sanel Redžić will perform at the world premiere pieces Lament and Dance, specially composed for him by Vojislav Ivanović.
Sanel Redžića has won the competition at the Guitar Art Festival in 2005. and that was the point that opened many doors for his international competing career which has brought him 29 prizes in the period from 2005 to 2014.
Sanel Režić returns to Belgrade where we he will hold a concert this time. Miroslav Tadić says that Sanel is "an extremely talented guitarist who shows musical maturity which is very rare for his age". Sanel is telling the Belgrade audience that he is bringing the soul and technique of an artist and promises a concert to remember. Also, he promises to give his best to make this an unforgettable concert. He also points out that this is not an easy task considering the great number of extraordinary concerts that will take place at Guitar Art Festival.
Sanel Redžić is one of the most virtuosic guitarists of his generation. Known for his varied repertoire and lively performances, he is quickly becoming one of the most important figures on the international guitar scene.
Born on July, 25th 1988 in Tuzla, Bosnia and Herzegovina. Mr. Redžić started to play guitar at age of eight under the tutelage of Predrag Stanković with whom he later finished secondary music school in 2007 with the highest marks. He then continued his Diplom, Master and Konzertexamen studies at the Hochschule für Musik "Franz Liszt" in Weimar under Thomas Müller-Pering and Ricardo Gallen. Additionally, Mr. Redžić has participated in masterclasses held by David Russell, Costas Cotsiolis, William Kanengiser, Aniello Desiderio, Denis Azabagić, Jorgos Panetsos, Thomas Offermann, Jozef Zsapka, Darko Petrinjak and many others.
Mr. Redžić has achieved a great deal of succes in competitions winning top He is also frequently invited as a jury member at competitions and gives regular master classes.
A soughtafter performer, Mr. Redžić has played hundreds of concerts to date in countries worldwide.
From 2006, Mr. Redžić has recorded several CDs for Gramofon Sarajevo, Central German Radio (MDR) and KSG Exaudio.
"guitar player with impressive skills…"
Jazzthetik, Germany
"outstanding representative of the young guitar generation of who surprises with unusual musical maturity."
Bonner Meisterkonzerten, Germany
"His performance expressed precisely the profoundness and dignity of the music in a refined manner with a controlled sound."
Gendai guitar magazine, Japan
Video
Partita BWV 1004 - Johann Sebastian Bach - Sanel Redzic
GUESTS