ARCHIVE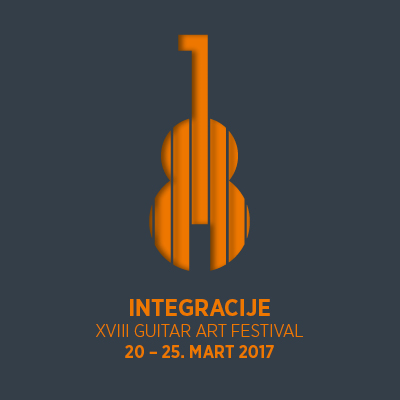 Mak Grgić
Slovenia
concert


Friday, March 24th | 19:00
Belgrade Youth Center

master classes
jury
Concert program:
B. Britten (1913 - 1976): Nocturnal After John Dowland
J. S. Bach (1685 - 1750): Chaconne, BWV 1004
S. Hayward (b.1991): Through the Fog (EU premiere)
A. Ginastera (1916 - 1983): Sonata for Guitar, op. 47
Mak Grgić, proclaimed "imaginative, gifted and expressive" by the NY Times and a "guitarist to keep an eye on" by the Washington Post, who programs music as far reaching as works from the avant-garde, film music to the great classics of guitar repertoire, early works, pop, jazz and more.
Born in Ljubljana, Slovenia, he studied guitar in Zagreb with the revered Ante Čagalj at the Elly Bašić Conservatory of Music and obtained his Bachelor's Degree with Alvaro Pierri at the Universitaet fuer Musik und darstellende Kunst in Vienna, Austria. He has just recently finished his Doctoral Degree at the USC Thornton School of Music as a student of William Kanengiser and Scott Tennant of the Los Angeles Guitar Quartet. During his time at USC he was a teaching assistant under the direction of Brian Head. He currently holds a faculty position at Mount St. Mary's University in Los Angeles, and artistic directorships of M.A.R.S. Interdisciplinary Arts Festival and Zagreb Guitar Festival. His charitable activities include fundraising for Bosnian children with financial issues.
Mak, who was recently a Young Artist in Residence at The Da Camera Society of Los Angeles, is a co-founder of DC8, Da Camera's contemporary music ensemble, which strives to expand the definition of what a modern music ensemble can be and was named an "inspiring addition to the contemporary music landscape in Los Angeles" by the LA Times. His collaborators have so far included Martin Chalifour, Robert DeMaine, Jay Campbell, Joshua Roman, The Assad Brothers, Ashley Bathgate, John Sant'Ambrogio, Paul Vasile and Stephen Ackert on the organ, percussionist Ian Rosenbaum, and guitarist- composer Nejc Kuhar, with whom Mak made his first album String Modulations, sponsored by The National Radio of Slovenia and the Ministry of Culture in Slovenia. Mak is a member of Duo Deloro with flamenco guitarist Adam Del Monte and FretX Duo with Daniel Lippel, founding member of ICE Ensemble, dedicated to performing new music for guitar duo.
Video
Mak plays Alberto Ginastera: Finale from Sonata for guitar, Op. 47
GUESTS