ARCHIVE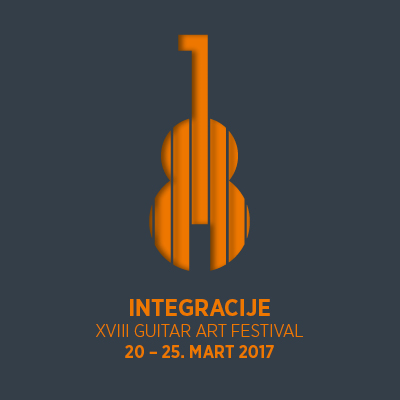 Darko Bageski
Macedonia
concert


Wednesday, March 22nd | 18:00
Belgrade Youth Center

master classes
jury
CONCERT PROGRAM:
J.K.Mertz - Le Gondolier, Fantasie Hongroise
A.Barrios, Mangore - Choro de Saudade
M.Giuliani - Rossiniana nr.1
D.Reis - Se ela Perguntar, Xodo de Baiana
Macedonian traditional composition - Jovano Jovanke
Darko Bageski is a prominent Macedonian guitar soloist who has been performing around the globe for 20 years now. The music critics, as well as the audience describes the interpretation of this guitarist as an exceptional experience because he manages to transfer his emotions and inspiration onto each person in the audience. That is why Darko Bageski always chooses the musical pieces, even when he is only singing them, that awaken colorful emotions, excitement and pleasure for his concert program.
Audience in Belgrade will have the privilege to meet Darko Bageski as an individual through his concert program which contains many different human emotions – laughter, tears, sorrow, melancholy, pride, nostalgia and infatuation. This artist communicates with his audience in a universal language at his concerts – through music.
With the high level of skills, this guitarist performs pieces from various stylistic periods. In the first part of the concert, Bageski will play works written by J. K. Mertz, A. Barrios and Mauro Giulianni and in the second part of the concert he will represent himself with the pieces by D. Reis. Concert will close with a traditional Macedonian song in his own arrangement.
Darko Bageski has delighted the audience in Herceg Novi with his concert on Guitar Art Sommer Fest in 2016 and this year's concert is his premiere presentation to the Belgrade audience.
Darko Bageski gained music education in Skopje, Macedonia (prof. Jane Penov), and Zagreb, Croatia (prof. Xhevdet Sahatxhija) and graduated at Higher School of Music "Franz Liszt" in Weimar, Germany (prof. Jurgen Rost). His education continued at postgraduate studies at the National Conservatory of Music in Thessaloniki, Greece, in the class of prof. Gerhard Reichenbach, and a master's degree under prof. Costas Cotsiolis.
He has performed many concerts and recitals in Germany, Greece, Bulgaria, Croatia, Serbia, Macedonia, Italy, Sweden, Taiwan and the USA, and has participated in seminars and master classes with world-renowned guitarist.
He also acts as a soloist with many chamber orchestras as well as with the Macedonian Philharmonic Orchestra. Among many awards, he also received award from Association of Music and Ballet pedagogues Macedonia for successful years of work in the field of pedagogy.
He is a president and founder of the Association of Classical Guitarists of Macedonia and art festival director of "Tremolo Guitar Fest" in Skopje. Currently, he works as a guitar professor at the Faculty of Music Arts in Skopje.
Video
J. Jovicic Macedonian Rhapsody - Darko Bageski
GUESTS