ARCHIVE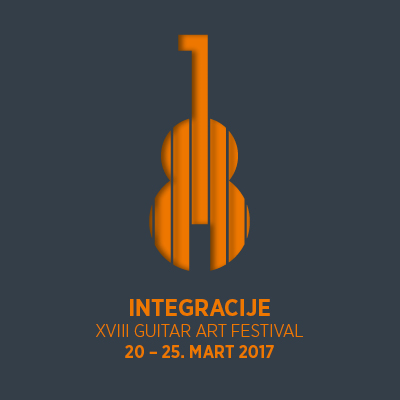 XVIII Guitar Art Festival
March 20th – 25th, 2016 / Belgrade / Serbia
XVIII Guitar Art Festival will be held from 20th – 25th March in Belgrade under the slogan "Integrations". The festival will again justify its status as one of the greatest guitar festivals in the world with over 150 participants from 20 countries. Through 13 concerts the audience will be exposed to a very attractive selection of world class musicians in the field of classical music, tango, flamenco, blues, rock and contemporary musical creations.
Festival begins with a concert "Fusion of Latin American Classic" which take place in Kolarac Foundation on the 20th of March. At the concert, we will see the acts of Roberto Aussel, bandoneon player Aleksandar Nikolić and chamber Orchestra Anima Musicae from Hungary.
The living legend of world guitar, Tommy Emmanuel will perform on the 23rd of March 2017. It will be a great opportunity for the audience to hear for the first time, songs from his current album "It's Never Too Late".
The remaining four concert nights will be held at Dom Omladine Belgrade. We are proudly announcing the greatest representatives of modern Hispanic scene – Ultra High Flamenco, who will for the first time perform in Serbia together with a well-known flamenco dancer Rosario Toledo; afterward we have a concert of Giorgos Georgopulus quartet that brings us an urban bouzouki sound with traditional Greek melodies and a concert of a versatile and unconventional talent of Bojan Ivanovski with a premiere of his author's project – "A whole new world".
After the traditional part of the classic program, the festival will represent this year's project Guitar Integrations which will gather classical guitarist on the rise from 6 ex-Yugoslavian republics. Together, they will hold individual concerts but they will also work on creating a new music piece as a group. Italian composer Carlo Domeniconi is composing a premier piece for 6 guitars which will be played by Mak Grgić, Srđan Bulat, Sanel Redžić, Nemanja Ostojić, Radoš Malidžan and Darko Bageski at the closing ceremony of the festival on 25th of March 2017 in Dom Omladine in Belgrade.
FESTIVAL ACTIVITIES:
* CONCERTS
* MASTER CLASSES
* THEORETICAL LECTURES & PROMOTIONS
* COMPETITION
* GUITAR VISUAL ART
* GUITAR ART WORLD
* GUITAR ART MIDNIGHT CAFE CLUB