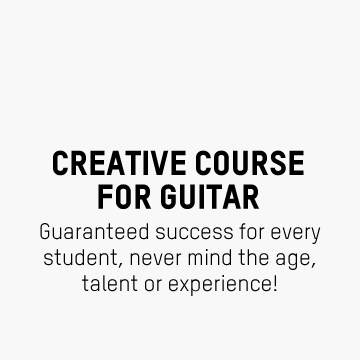 (Re)Creative Course For Guitar
How to play a guitar in short period of time
Guitar Art Festival, in cooperation with professor Petar Jankovic, the prestigious school - Jacobs School of Music, University of Indiana and with the support of the Ministry for Education of Serbia and Embassy of the United States of America in Belgrade, organizes the Creative Guitar Course. The goal of this course is to teach students effectively how to play a guitar in short period of time.
Creative course of Guitar represents the introduction into the modern and classical guitar techniques. It is based on a very specific program that is practiced successfully for fifteen years at one of the most respectful music academies – The Indiana University, Jacobs School of Music.
The program includes: learning of the basic chords in first position, bare chords, reading music sheets and guitar tabs, finger style technique and music theory also.
During the course, students will be able to learn how to make a critic opinion when it comes to music besides the basic musical education. This process will develop through visiting concerts of the Guitar Art Festival and through guitar play of the professors during classes. The professors who will be teaching the students are all graduates from the Music Academy and have long experience in pedagogy. The selected ones have also gone through the intensive training with professor Petar Jankovic , who gave them exact instructions how to perform the method which will teach the students effectively to play a guitar in a brief period.
Creative Course of Guitar is 60 euros per month
66 classes ( lessons take time twice a week and last 60 minutes).
Group classes (10 students in each group).
Learning of classical, rock and modern repertoire.
The possibility of renting, buying (for a very available price) or bringing their own guitar.
Guaranteed success for every student, never mind the age, talent or experience (music experience from before is not a condition for attending this course).
INFO:
Guitar Art Festival
Novi Beograd - West 65, Omladinskih brigada 86
11000 Belgrade, Serbia
mob: 00 381 64 1956921
e-mail: kurs@gaf.rs